A furry friend is a bond that lasts a lifetime! When you have a dog you love, care for, and train, you want them to be safe, healthy and happy. In Southern Ontario, we at APL Teeth Cleaning & Treats want the same things for your pooch. If you are looking to have a dog with a happy tummy and a winning smile, our services are able to assist you in the best ways possible.
Healthful Treats and Dog Teeth Cleaning Services in Southern Ontario
If you want your pooch to have a clean, fresh smile, we want to help you by offering some wonderful options for your care plan. For more information or to set up an appointment, please contact us today. Your pooch will be so excited, they just might give you extra smooches!
APL Treats
Our health treats are packaged with care in biodegradable bags. We make sure we are doing our part to be a plastic-free shop! We cold smoke our treats to perfect the curing process with all-natural ingredients, and the end result is a treat that isn't just delectable, but also good for your pet. We have a large range of cold-smoked treats to pick from, such as salmon skin chips, duck feet, Eso chews, lamb and beef tripe, liver lamb and beef bites, and raw beaver tail pieces. You will find that you can offer your pet a wide variety of treat options knowing that you are giving them the best kind of high value tasty treat! Your dog will be doing back flips just to get a piece!
Took Charlie, my seven year old very hyper Sheltie to get his teeth cleaned tonight at Fifi's Grooming, I was a little nervous about it, but I have pictures to prove it, they actually have Charlie calm & relaxed! His teeth look great, Melissa and Jaime were great! Absolutely will do this again! So happy, great experience for both Charlie and me!
Judy Furdal
01:48 02 Feb 23
My pet groomer fifi told me about the service coming for teeth cleaning. My little guy needed it bad. So i booked an appointment. Omg these ladies made my little peanutbutter so comfortable and relaxed. They did an excellent job on his teeth. They also did a video of him. What little ham my buddy is.
My dog Trunks loved the experience and Jaime&Melissa were great to work with! 6/5 if I could rate it better I would
Mohamed Mohamed
18:11 01 Feb 23
The wonderful people at APL did such a great job cleaning my senior dog, Raxl's teeth! They took such care with her, making it a safe experience for her. I wholeheartedly recommend them to anyone looking for a more natural solution for their pets' teeth cleaning and scaling needs without using anesthetic.
Regan Macaulay
01:01 23 Jan 23
Thanks so much to Melissa and Jaime for taking such good care of Waldo today! We were nervous because he's almost 12 years old and we weren't sure how he'd deal with this new experience. He's his perky self and his teeth look great. I would gladly recommend your services to any pet parents!
Hannah Hall
01:40 18 Jan 23
Amazing results for Pear! Can't believe the before and after pictures. Thank you APL for such a great job. The pictures of Pearl showing how relaxed she was during the procedure were a BONUS. We will definitely see you again
Debra Lortie
19:12 08 Jan 23
Brought my 10-year old daschund for his first cleaning today.I am so happy and grateful for Melissa's professional, thorough and compassionate service. My dog is happier, cleaner and on the road to a better life after all the gunk was removed from his teeth.So so happy. Karl and I thank you ❤️
Kristina Dubois
23:35 19 Dec 22
I would recommend Melissa's services to every dog owner!!!My little girl had such a great time while getting her teeth cleaned!!!The results are amazing!!!We are going back in 6 month!
Natalia Dvoryadkina
17:13 19 Dec 22
Such a joy to meet these amazing ladies. They did such a wonderful job, my dog Treeka was so calm and relaxed while having her teeth cleaned. And it was very affordable. Thank you so much for taking such great care with my fur baby. No doubt we will be back again.
Jeannette Clouthier
02:49 08 Dec 22
Our little Bert has his teeth done and they look great! The pictures look like he had a blast being there too. Thank you!
Victoria Craig
14:24 30 Nov 22
Our sweet Chewie was a rescue with neglected teeth. We are so thankful for APL and the work they did! Highly recommend.
Alicia Austin
01:53 30 Nov 22
Amazing Service!!!! This was my dogs first time getting his teeth cleaned and what an amazing experience. My dogs teeth are so much better, I can't believe the difference. Melissa and Jaime you made this experience great for my dog and for me. Thank you so much !Tina L.
Tina Legros
23:25 27 Nov 22
Had my 2 little rescues teeth cleaned and was thrilled with the results. Not only were their teeth pearly white but they were treated with respect and a gentle touch. The APL team cares so much about our pets and it shows! Looking forward to our upcoming appointment.
Kelly Nocent
00:40 25 Nov 22
Just had a more than 5 star experience with APL….Melissa You are the perfect and most peaceful animal whisperer…..Melissa and Jaime…You are a fantastic team!!!My Kits are very happy and they are a pleasure to Smooch again…Fresh breath and beautiful white teeth!!!Thank You💚💜
Kathryn Milne
17:40 18 Nov 22
Melissa and Jaime are awesome!This is the 2nd time they've cleaned Cassie's teeth. They are prompt, professional, efficient and most importantly tender and caring. They provide before/after photos so you can appreciate the results for yourself.Highly recommend them 5 ⭐️
Heidi Stubbings
21:41 10 Nov 22
Highly recommend APL for cosmetic dental cleaning. Melissa did an amazing job on my three rescue chihuahuas, and Josh truly has a gift in comforting scared dogs. I am amazed at how great my dogs teeth look! I will definitely be back and most assuredly recommend them to anyone considering this for their pets.
I had such a great experience with APL! They did an amazing job on my dog Gizmo's teeth. Highly recommend to anyone who has a pup! They will be in great hands!
Katrina Cowan
22:54 27 Sep 22
What a terrific service for my dogs! We will definitely be back.
Denis Michaud
22:42 19 Sep 22
We are beyond ecstatic with the results of our sweet Abby's teeth cleaning at APL Teeth Cleaning & Treats! Melissa is absolutely amazing, taking the time to explain the process, going over the after care in extensive detail and answering any other concerns we had due to Abby's age. We are so grateful for the referral to her and look forward to keeping Abby on a regular cleaning routine so she's a pooch we want to smooch! Thank you so much Melissa for being such an amazing human and for taking such good care of our pup!
Penni Michaud
16:43 18 Sep 22
Totally recommend APL Teeth Cleaning! Just had my pooch's teeth cleaned for the second time. Not only do they do an amazing job on the teeth but you can tell they love animals and treat them so well.
Thank you Melissa for taking care of my 13 years old boy. He came home so happy.
Janet Cheung
04:09 05 Sep 22
Melissa a Super trusted person to leave my baby Elvis with. She did a great job . I will take Elvis back anytime needed to get his teeth cleaned . Melissa gave me great info . Reg. Elvis teeth care after cleaning. I most definitely recommend APL teeth Cleaning. Thank you Melissa. 😊 💖Elvis had no problem leaving mommy to go with Melussa when I dropped him off. So cute my baby chicho.
Celina Santos (Cricri)
21:05 31 Aug 22
TBH my Chanel has trouble eating before the teeth cleaning and even the best has suggested many times that Chanel needed her teeth to be cleaned. I was amazed by the comparison pictures that Melissa sent me. There was a huge difference and Chanel's teeth are whiter than mine now LOL definely gonna come back for the next teeth cleaning!
Awesome service provided. Very professional. This is our third time taking our dog. Highly recommended!
Janice Rutherford
17:37 24 Aug 22
Melissa at @APL -Cosmetic Teeth Cleaning for Dogs did an great job cleaning Benji and Roxy's teeth today. They were both relaxed and happy when I picked then up. Sparkling teeth with no plaque or tartar and great breath - all for a very affordable price.
rosemary heneghan
02:40 20 Aug 22
Yes, we have met. Since you asked, I will get into some detail. We inherited a 14+ year old dachshund recently. I paid a $56.50 deposit and drove 45 mins each way to Barrie for the appointment, only to be told that his mouth was too far gone for your cosmetic cleaning. Fair enough. You kept the deposit. Fair enough. Then you posted the pics of his mouth only to brag about your "professional integrity". Somehow I felt that professional integrity would have been to refund my deposit, especially if you were going to use our photos for advertising and promoting yourself.
Mister Moto-Master
14:36 17 Aug 22
Brooklyn Cann
03:49 11 Aug 22
Meg Freedman
00:38 11 Aug 22
AMAZING!! They treated my Gizmo so well, her old teeth were SO sparkly after. I took her to the vet a couple weeks later and they praised me for taking good care of her teeth 😉 -- she's 14 and her teeth were challenging!!Thank you again for being so great, ladies!!
Cassandra Cassista
17:51 31 Jul 22
Fantastic experience, what a difference. Luna was taken care of very well and we really felt like she was in good hands. We definitely plan on being repeat clients and visiting APL for future cleanings. We highly recommend her services to everyone thinking about a canine teeth cleaning.
Patrick Tabis
21:23 23 Jul 22
Marley absolutely was a good boy, when getting his teeth cleaned. You guys absolutely rock, it was a pleasure to have met you both. And will definitely see you again.💕
Susan Bolton
19:25 08 Jul 22
Christine Num
19:12 05 Jul 22
Thank you Melissa, you again did an amazing job on Joey. He came home happy as can be. You are truly great at what you do.Lisa C
Lisa Casselman
22:35 03 Jul 22
Melissa's love of dogs shines through. She will treat your pup like her own. My miniature poodle, Piper, is very timid and anxious (she trembles the entire time when she goes to the groomer), but Melissa does an amazing job of calming her. Her teeth look absolutely wonderful. I vastly prefer this process to getting her teeth cleaned at the vet, because she doesn't need to be put under anesthesia. I know that some vets (ours included) are critical of this form of teeth cleaning, but our vet commented on how great Piper's teeth and gums looked after her last cleaning with APL. Piper isn't very cooperative with us brushing her teeth, but we are hopeful that with regular cleanings with APL that we can avoid expensive dental work that will negatively impact our sweet girl's quality of life. We will be back again and 100% recommend APL.
Margaux Peck
15:43 15 Jun 22
APL gave my dog her first teeth cleaning, and the job they did was shockingly good. Her teeth look clean and healthy again, and I don't think she minded the experience much at all. (I think I dislike going to the dentist more than she did.)I'm not a fan of sedating an animal unless absolutely necessary, and APL's approach is calming, and friendly, without sedation. You can tell that Melissa and Jaime clearly love animals and know how to take good care of them.I *highly* recommend APL versus the traditional prohibitively expensive, and potentially life threatening anaesthetic route.Very happy with the experience and I would take my dog back to them again without hesitation.
Derek Brown
12:38 13 Jun 22
Melissa took care of my Maggie today and I am beyond happy with the results! The customer service and experience was great for both Maggie and I. Maggie is a whole new lady! She has beautiful white teeth and her breath is fresh as can be! Maggie had not had any proper dental care and is an elder dog at 14. I debated taking her to the vet but the cost was astronomical and I really couldn't fit that into my budget. I found out from a friend that APL come to Kingston once a month and I jumped on the opportunity! The price was not even comparable to what the vet wanted and I knew right away after meeting Melissa that Mags was in safe and loving hands! I highly recommend booking your pup in and getting them the care they need! After seeing the before and after pictures I knew Maggie had to have been in pain for quite some time, but I never once felt that I was being judged for not giving Maggie the proper dental regimen. Melissa educated me on aftercare and how to care for Maggie going forward! Best experience I've had in a very long time. You will not regret getting your pup booked in!
Emily Seaward
19:49 06 Jun 22
I took my dog to APL for a dental cleaning appt. I chose APL because I wanted to avoid having dental cleaning at the vets (they would need to put him to sleep for dental cleaning, and there is always a risk). APL did a great job cleaning our dog's teeth. He seemed very happy when I picked him up. Everyone at APL was friendly and the technician came explain to me how to maintain our dog's gum health. Very grateful!
Denise Chan
19:03 21 May 22
Thank you Melissa, Josh, and Isabel for taking such great care of my cat! The before and after pictures were compelling, and as a first time customer re-assured me of the quality of your work. I will definitely be using APL services again.
Our little old girl had her teeth refreshed to pearly whites today. She wasn't stressed at all. Loved that she could get such excellent care without dangerous anesthesia. Highly recommend this service. Staff are friendly and knowledgeable. Thx again.
Sandra Drynan
02:20 14 May 22
APL has been a lifesaver! Highly highly recommended. Incredible work with our 7 year old rescue Luna who can't go under anaesthesia but has a history of bad teeth. Finding a solution was impossible. Thankfully a family member referred us and I can't believe how clean Luna's teeth are after the service and how happy and calm she was. The photos are precious. Thank you SO much Melissa and Josh!!
Irena Tisma
01:06 06 May 22
Great experience with Josh and Melissa highly recommended!!! Milo is happy and will be back
Giovanni Legro
17:49 30 Apr 22
Amazing. Cannot recommend highly enough, will definitely be booking in the future!
I was so happy to have Abby's teeth cleaned again. Melissa and Josh did a great job comforting Abby and cleaning her teeth. It's wonderful to see her smile with brilliant white teeth. Thank you again for a great job 😁
Gloria Longstreet
12:16 22 Apr 22
So pleased with APL!! Our 4 yr old cavoodle Alfie has a bright smile and his breath is fresh! No stress! No anesthetic! We are happy once again!
Rhonda Goodwin Flynn
19:27 09 Apr 22
We had the absolute best experience today, we took Bailey in for a cleaning thinking she would be not be able to handle it, and boy were we wrong! They treated her like there own dog, sent pictures and the results are incredible. I would recommend to anyone and everyone! Thanks again!
Haleigh Wright
21:02 06 Apr 22
This cosmetic cleaning is amazing and Melissa was so sweet. I had my dog's teeth cleaned at the vets the last time and it wasn't a fun experience and it was super expensive. Now, don't get me wrong I'm not trying to insult vets and I would also spend any amount of money to keep my dog healthy. I have to say that this cosmetic cleaning did as good a job as the vets without all the trauma to the dog. My Murphy is usually pretty cautious about these things but he was awesome for Melissa and when I picked him up he was so happy. Thank you thank you for this alternative cleaning. It truly is the best! ♥️
Mishele Mahoney
18:05 02 Apr 22
What an experience, Ted who had laser breath has good breath. Ive never seen such k9 care before.
joe bolahood
23:39 31 Mar 22
Amazing teeth cleaning for my dog Keona 💜🐕 . Melissa and Josh were amazing with my dog , I could tell right away he was so happy to get his teeth cleaned . Highly recommend, amazing price , definitely going back . Thanks so much.
Angel Curtiis
15:12 30 Mar 22
Super happy with the tooth cleaning service for my senior dog. Also happy with the follow up maintenance recommendations. I definitely recommend this service!
Cyndi Teather
23:12 21 Mar 22
WoW! Bye bye bad breath! Little Bella has a collapse trachea issue and this is a great non invasive teeth cleaning alternative! Who knew!Melissa was a delight to deal with, and explained everything in details. Bella, I swear came home smiling from all the special attention received. This pawparent would give more stars if it was possible ! Great service and great care!
Annie Charlebois
20:51 21 Mar 22
Cleaned my Yorkies teeth which was amazing! I can never get near her teeth and they did a great job showing me the before and after results. Highly recommended for healthy dog smiles.
Excellent job! And a whole lot cheaper and safer for your pet than cleaning at the Vet. Going to be a regular thing for sure. William isn't crazy about the aftercare tooth gel but likes his pearly whites.
Tracy Fawcett
13:36 06 Mar 22
10/10 for Melissa and her team. I am so thrilled with the job done and would highly recommend her services! We are happy that our girl was not put under to have her teeth cleaned and hope with regular visits to Melissa that her teeth will stay sparkly white. Fur babies deserve dental care too ❤️ THANK YOU!
Natasha James
02:20 04 Mar 22
Amazing first encounter with Melissa and APL. Not only does our boy have a gorgeous clean smile but he was totally relaxed about the whole experience. I don't know how they work their magic but I will definitely use their services again and tell all of my pet loving friends about this amazing company.
Carolyn Reid
20:49 18 Feb 22
Melissa was so wonderful with my Pompoo. Myah (my pup) had bad breath and after she got her teeth cleaned it smelt so clean. I mean my dog had really good smelling breath which is so nice. Myah was so comfortable with them and so happy afterwards too. I am so happy to have met these amazing people and I'm totally going back again. Thank you Melissa for all your excellent work.
Tammylynn Hill
13:57 07 Feb 22
Amazing experience at APL Teeth Cleaning! The staff are fantastic; the quality of the cleaning is exceptional; and the animals are treated so kindly - my 11 year old dog had such a positive experience. We'll be back for annual cleanings!
Ivanka Videc
18:36 05 Feb 22
Amazing at what she does!! Our boys teeth are white now and no more stinky breath! He was also calm and relaxed when I picked him up which was highly unusual as he gets separation anxiety.
We had a really good experience with APL! They cleaned both of our dogs teeth and the difference is night and day! Not only are they knowledgeable but they're really friendly people. I felt comfortable leaving my babies with them. I definitely recommend APL.
Jade Anderson
20:40 22 Jan 22
The APL team looked after my 2 year old dachshund with great care. She is not used to a lot of people but they were gentle and encouraging for her. Her teeth turned out beautiful and clean. I am very impressed with their work and will be returning again. Thanks for such great care of my baby.
Shelley Skaggs
14:17 19 Jan 22
Kate MacDonald
01:12 19 Jan 22
My two Wheatens' teeth look beautiful- whiter & no plaque. No anaesthesia involved, less expensive than at the vet.
Jennifer Gingras
23:00 15 Jan 22
If I could give more stars to Melissa for her service I would. At least 10+. I have a very nervous and elderly miniature Schnauzer and Melissa gained his confidence and trust within minutes. Her work on his mouth was nothing less than amazing. It is clear that Melissa loves her work and cares very dearly about the animals she treats. Thank-you from the bottom of our hearts, Sincerely, Larissa and Emmett P. Scruff (Schnauzer).
Larissa Fedak
13:19 08 Jan 22
It was our first time. All I can say is amazing! Our 11 year old fur baby has very clean teeth without having to sedate him. I am very greatful that I found APL. Will recommend them to everyone I know. Thanks again 😊 Jen
Melissa is simply amazing! She truly loves the dogs she works on and makes them all so comfortable and happy during their cleaning. My dog's teeth are fantastic now and he's all minty fresh. The before and after photos are invaluable! I will definitely be taking my dog to see Melissa on a yearly basis for cleanings. SO happy with APL's service! Can't recommend her enough!
Karin Thomas
03:23 17 Dec 21
Melissa did an amazing job with my girls! Yes the before is terrible,:( I definitely could've done much better in their oral care. I will be seeing Melissa in the new year for touch ups, thank you for taking care of downtown toronto!!🥰
Gwen Ainscough
20:12 10 Dec 21
Our experience with APL was fantastic from start to finish. My pups both needed dental work, but COVID delayed that. When I heard about APL, I jumped in without hesitation - it is a much more affordable and less invasive option than vertinary dental work. The results were amazing - they literally uncovered some teeth that plaque was hiding. They answered all my questions about the process and shared photos and video of my pups while in their care. Really fabulous customer service. Thanks APL!
APL does a fantastic job. I have never been more impressed with a service. They were so knowledgeable, professional and super friendly.You can certainly tell Melissa and her team are animal lovers. They sure treated my Tucker with loads of love. I know he can be challenging and super fidgety, but it only took them an hour and he came out with sparkling white teeth, and NO MORE STINKY BREATH!! I am a customer for life!! Extremely happy with the services our fur baby received. They took before and after pictures and texted them to me and the difference is incredible. Love this company!!
Tamara Bell
22:20 29 Nov 21
From start to finish amazing service and results most I'mportantly . No stress on dog he is exactly the same as when I brought him in . Except he has nicer breath .thank you I will be back and recommend as wellMike
Mike Monaghan
17:26 24 Nov 21
My 10 year old maltipoo's teeth were in need of a good cleaning, and they got the job done! He has been so happy ever since!
CollinMeghan Breen
16:14 24 Nov 21
Excellent work. Thank you for the great care and professional work done to clean my old pups' teeth! He( and I) are smiling ear to ear!
Heather Robinson-Dooreleyers
20:49 23 Nov 21
They did an excellent job with my dog. I highly recommend them!
Katherine Wagner
19:00 23 Nov 21
We had our fur babies teeth cleaned and couldn't be happier with their service. Will definitely be coming back. Totally stress free experience.
Elizabeth Manuel
15:38 22 Nov 21
My furbaby is a 13 1/2 year old golden retriever. I was a little wary about taking her in, but they did a great job. Her teeth look much better, her breath smells good and she was perfectly content. Thank you.
Pam Erskine
03:16 12 Nov 21
Had a great experience today getting my pups teeth cleaned. They were so friendly and kind and did an amazing job as you can see in the pictures. Would definitely recommend!!!!!
My vet recommended getting my dogs teeth cleaned for a couple years now, but I didn't feel comfortable with potential risks of anesthesia and the huge price tag that goes along with it. I heard about Melissa from a friend and was skeptical at first, but then I followed them on Instagram and was amazed by the before and afters. Long story short I am now a believer and will be coming back every year! My dogs teeth look great and his breath smells good too (especially when you use the aftercare product). Melissa and Josh are so kind and do great work. Thanks again!
Daniel Jannis
11:27 04 Nov 21
I could not be more pleased with the amazing job APL did. When I adopted my dog, she had a few health problems and her teeth were a big concern. The before and after is unbelievable!! She is such a happy girl after her appointment and had no stress. I now have a smoochable pooch!! Thank you thank you thank you!!!
emily quill
01:20 02 Nov 21
To be honest, I was very sceptical. I was prepared for "sort of clean". It really is amazing how clean they get the teeth at a fraction of the cost of a cleaning at the vet. Highly recommend.
KATIE LUCYK
01:46 30 Oct 21
Amazing job! I was sceptical at first...I had no idea that teeth can be cleaned without anesthesia and costly vet bills. Do your dog a favour and book an appointment. I have no regrets! My dog came out as happy as can be with sparkling teeth and cavities prevented. Thank you!!
Melissa Collins
00:31 30 Oct 21
Took my very timid lab to get her teeth cleaned and was so impressed with how good they were with her. Great job and very informative on what's going on with what they could see.
Cindy Elliott
22:11 27 Oct 21
Very impressed with the whole procedure. Was a little sceptical in the beginning but after seeing the results.....wow.Very professional service and reasonable rates for the procedure.!
Gord Sadler
21:43 27 Oct 21
My dog Sophie is a nervous pup. I was hesitant to book APL to clean her teeth, because I wasn't convinced anyone would be able to get near her mouth without her being asleep. (The vet requires Sophie wear a muzzle). Melissa was reassuring and convinced me to give it a try, and I wasn't disappointed!
Taylor Grant
17:50 27 Oct 21
We've all experienced something that is "too good to be true." I assure you, this isn't one of those times!I could not be happier and more satisfied with the excellent job Melissa, APL Technician, did on my 7 year-old Mini-Golden Doodle's teeth. Andy's teeth were badly discoloured and, more importantly, covered with tartar and plaque, especially his back molars. We were absolutely delighted and astonished at the incredible difference this cleaning made to Andy's teeth! Not only are his teeth 'pearly white', they are actually clean. There is no build-up of anything on his teeth!Initially, I was concerned that Andy would be scared or uncomfortable during the cleaning; however, Melissa immediately established a warm, positive bond with Andy. Off they walked to the treatment room and he didn't look back at us once! I do not exaggerate when I say he literally was smiling when we saw him after the procedure. He was calm and happy. I tend to worry, so I was very impressed and relieved when Melissa showed us video footage of his cleaning; he was being massaged and looked like he was enjoying a day at the spa. I have never seen him so relaxed!It is with no reservation that I highly recommend Melissa and APL Teeth Cleaning. I am so thankful for her meticulous work and obvious love for animals. I've read the technicians referred to as 'dog whisperers' and I couldn't agree more. Melissa is a gifted professional. Just seeing that Andy enjoyed his appointment, plus received a thorough teeth cleaning, is ample proof that APL's service is exceptional. Heartfelt thanks for taking such excellent care of my boy and his teeth!N. Dunn
Jessica Bentley
19:26 19 Oct 21
I had the pleasure of taking our 13 year old dog to APL Teeth Cleaning and Treats yesterday. I am so grateful for the care Melissa showed our pup. Our dogs teeth look amazing. I strongly recommend this company. Thank you Melissa...I am extremely happy with your work!!!
Laura Royal
18:54 19 Oct 21
Milo is a good boy 🐶. I love him and he deserves the best care. Thanks for the amazing teeth cleaning. I'm so pleased 😀. Pawsome job ❤️🤩❤️🤩
Dorothy Best
23:22 18 Oct 21
Massiel Gomez
19:11 17 Oct 21
Amazing work ! I was so nervous my dog was going to misbehave. But he did an amazing job ! & Melissa did a wonderful job on his teeth. They look amazing !! Thanks so much !
courtney skiffington
20:48 30 Sep 21
Me and my little fur baby Coco had the greatest experience with APL! His gums and teeth are in great condition now and all redness and build up are gone. I'm very impressed with the service…avoided putting my kitty under anesthesia which I desperately wanted to avoid. The ladies that took care of coco made him and myself feel so comfortable…thank you so much!
Excellent service. Melissa was able to clean my "Land Shark's" ( Chihuahua) teeth thoroughly, with minimal stress to him. Blue had a Veterinary appointment for an oral cleaning in 2 days which I have now cancelled. I was not aware a dogs teeth could be cleaned without anesthesia.APL's service has saved me over $1200.00 on just one cleaning, and the negative effects of anesthesia have been avoided.I have to admit I was skeptical about the results going in , given my dogs temperament. The results speak for themselves and are clearly visible in the before and after photos APL provides. I have put a reminder on my calendar to book him in on a yearly basis. If your dogs teeth are in need of a cleaning I highly recommend APL . Do your dog and your pocketbook a favour. Book an appointment today!
Kim Collier
00:13 28 Sep 21
We took our 2 year old Bernese Mountain to have his teeth cleaned. I can't say enough good things about APL teeth cleaning! They did an amazing job on our boys teeth. Would highly recommend them!!
Jennifer Webster
22:42 27 Sep 21
I couldn't be more pleased with the teeth cleaning provided by Melissa and her team. I have to admit i was a little worried that my senior may not tolerate the tooth cleaning because he's only ever had it done under anesthesia. The APL team did a great job and he even fell asleep during his cleaning. Thank you APL!
Wendy Power
22:15 26 Sep 21
Wonderful with my cat! His teeth look beautiful and his breath is fresh!
Kim Nakamura
01:08 26 Sep 21
I have a rescue who already had bad teeth when we adopted her at 10 months. She has separation anxiety and is very fearful. Melissa made sure my dog was calm and comfortable and the results are amazing. No build up, all white teeth. She also got lots of hugs, cuddles and snuggles and I payed a fraction of what scaling would've cost me at the vet's office.
Barb Osborne
13:38 18 Sep 21
APL does such an amazing job. I had my dogs teeth done for the first time and the results are amazing. I definitely will be a returning customer and I highly recommend them. Beautiful job!!
Sue-Ann Robinson
19:01 15 Sep 21
Krysta Wentzell
15:47 15 Sep 21
My Puppies Absolutely LOVE APL Treats! The Beaver Tails and Eso Chews are their favourite! I love that the treats are all natural, cold-smoked, and able to be frozen for a longer chew and shelf life.
Chelsey Morrissey
23:46 02 Sep 21
Our cosmetic canine teeth cleaning services are a pampering session your dog will enjoy.
Once their bellies have been cared for with healthy treats, we can focus on the state of their teeth. At the age of two is a great time to start paying more attention to your pooch's mouth. Many dogs by this age are starting to build severe plaque and tartar buildup. This is where that doggy breath comes from! We are here to help educate and make your pooch a pooch you want to smooch! That's why we offer all-natural, cosmetic teeth cleaning for dogs and cats. Our passionate technicians work carefully to produce the wonderful results of your pet's best smile. Please note that this procedure is strictly cosmetic, and we do not practice veterinary medicine.
Report Cards
Check out our furry friends who had their teeth cleaned!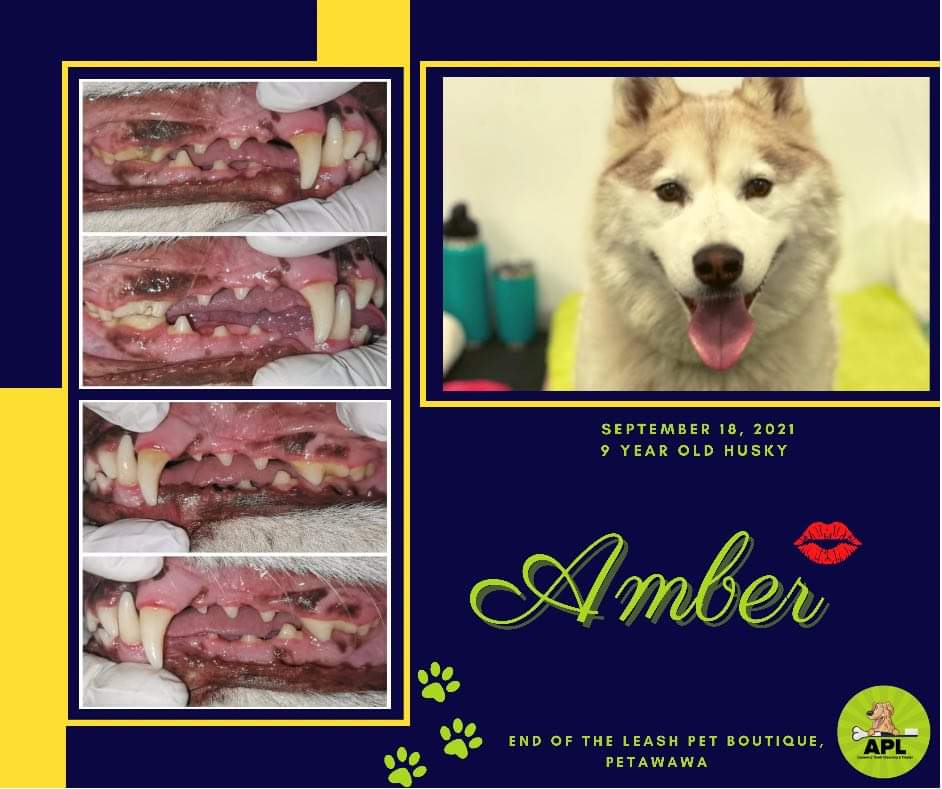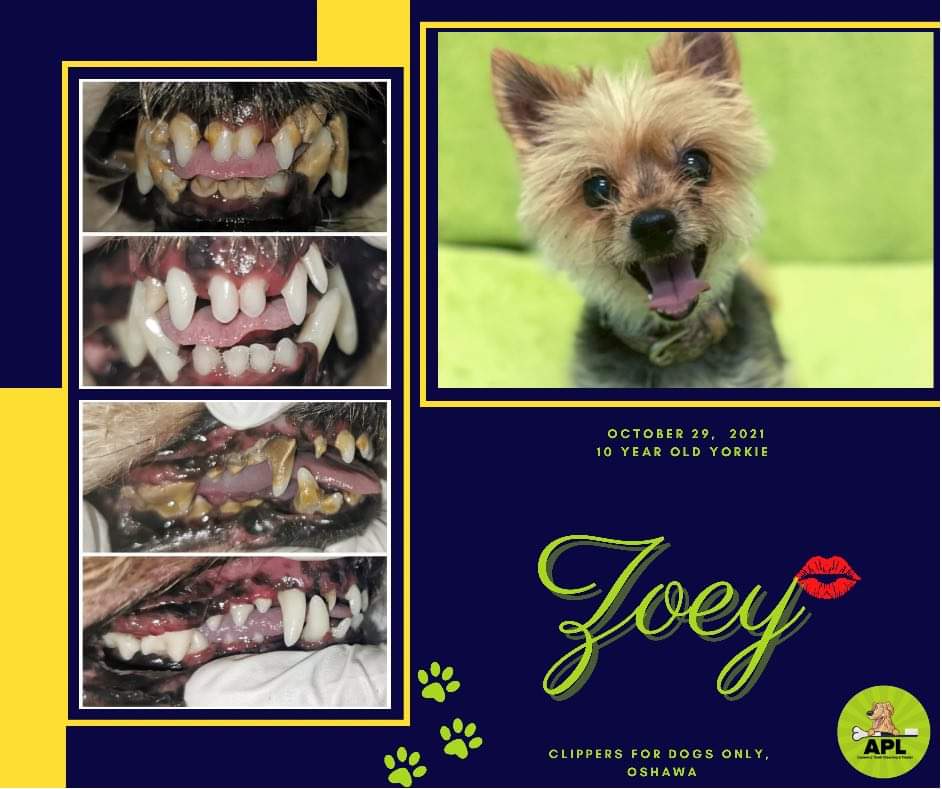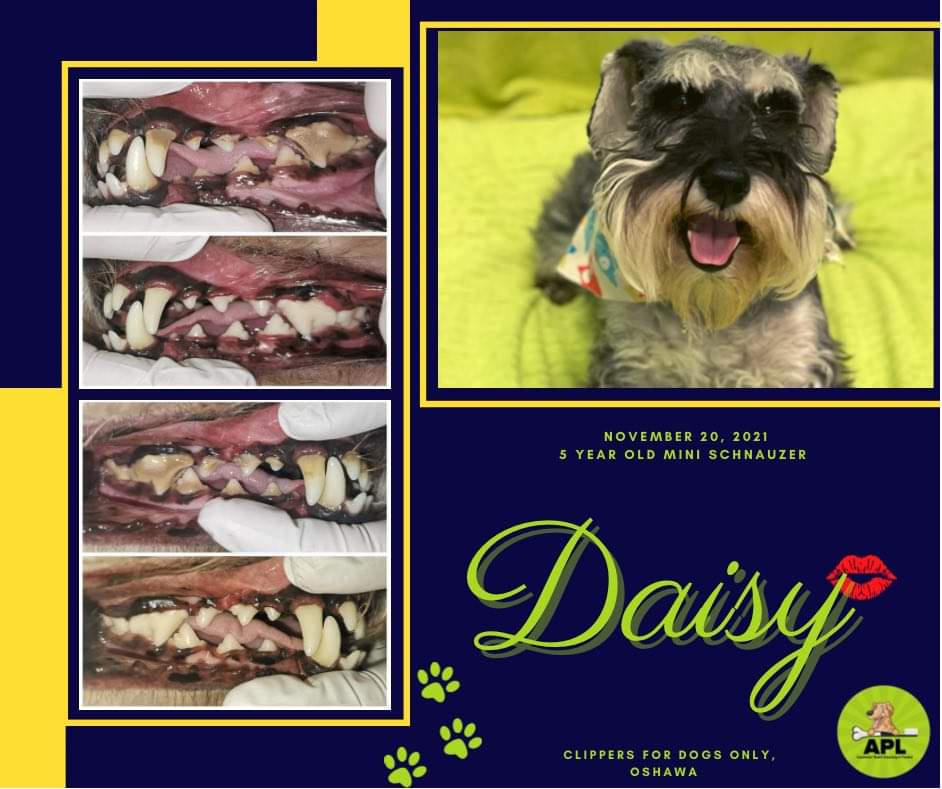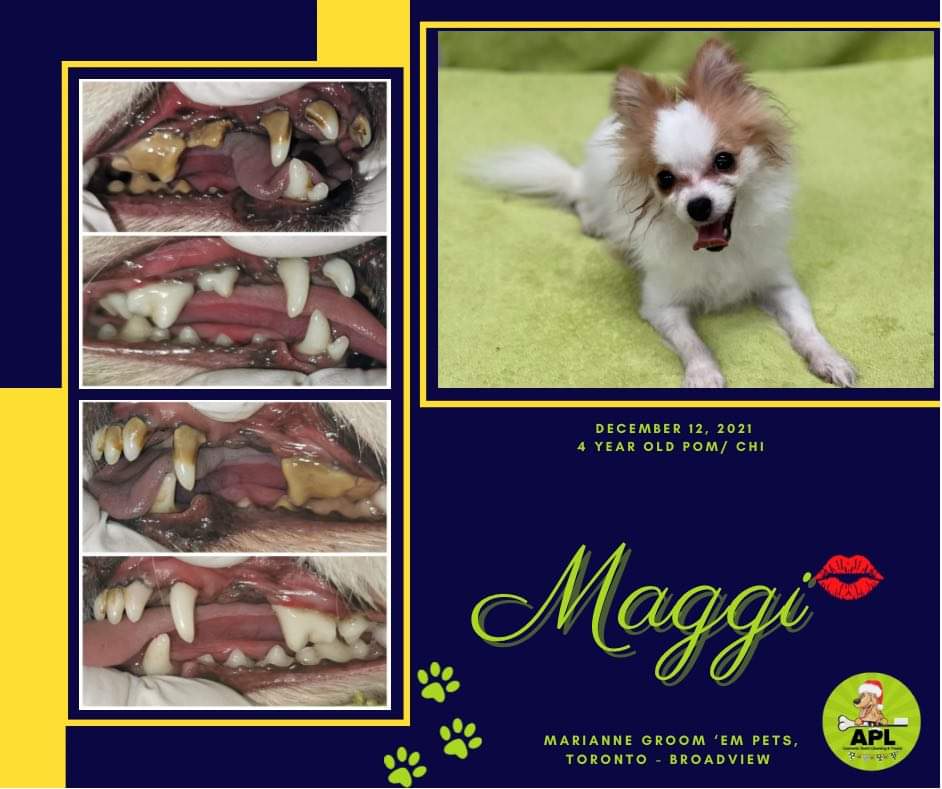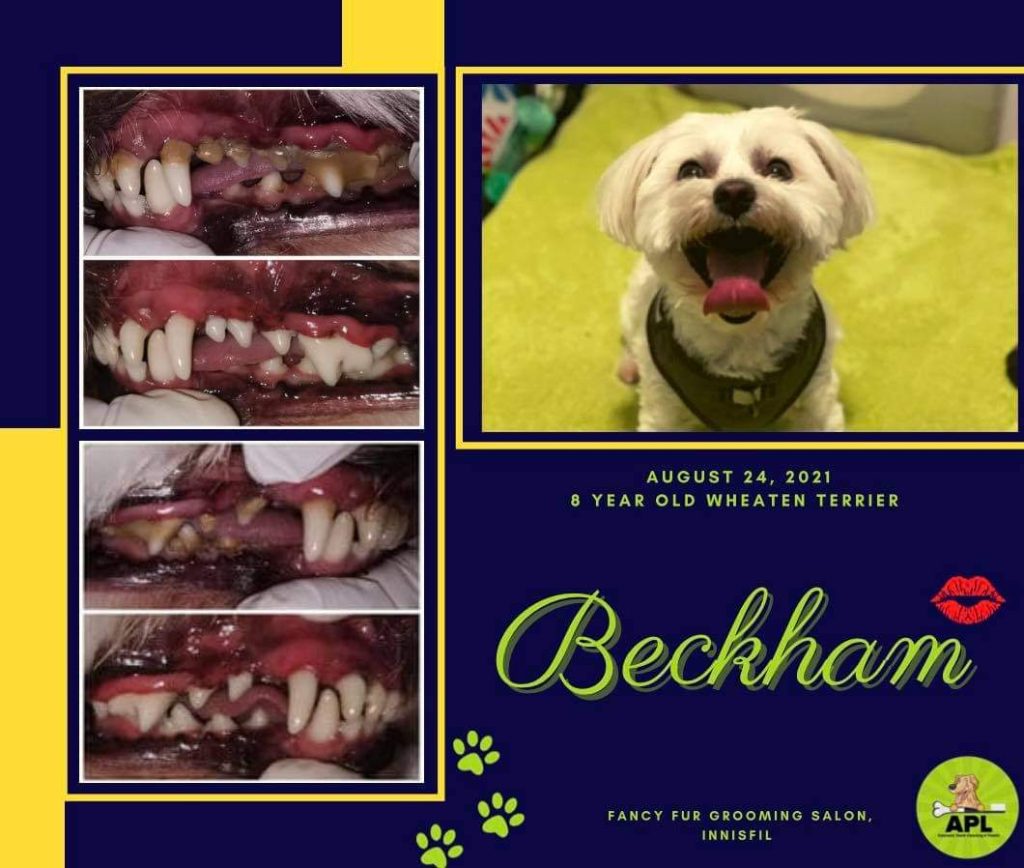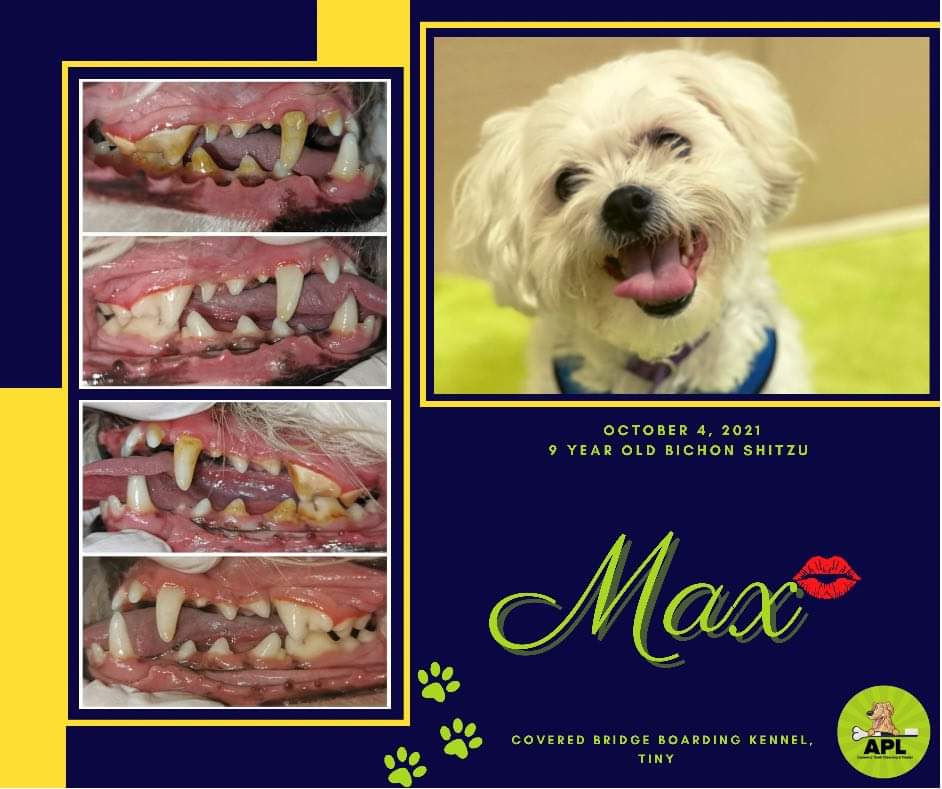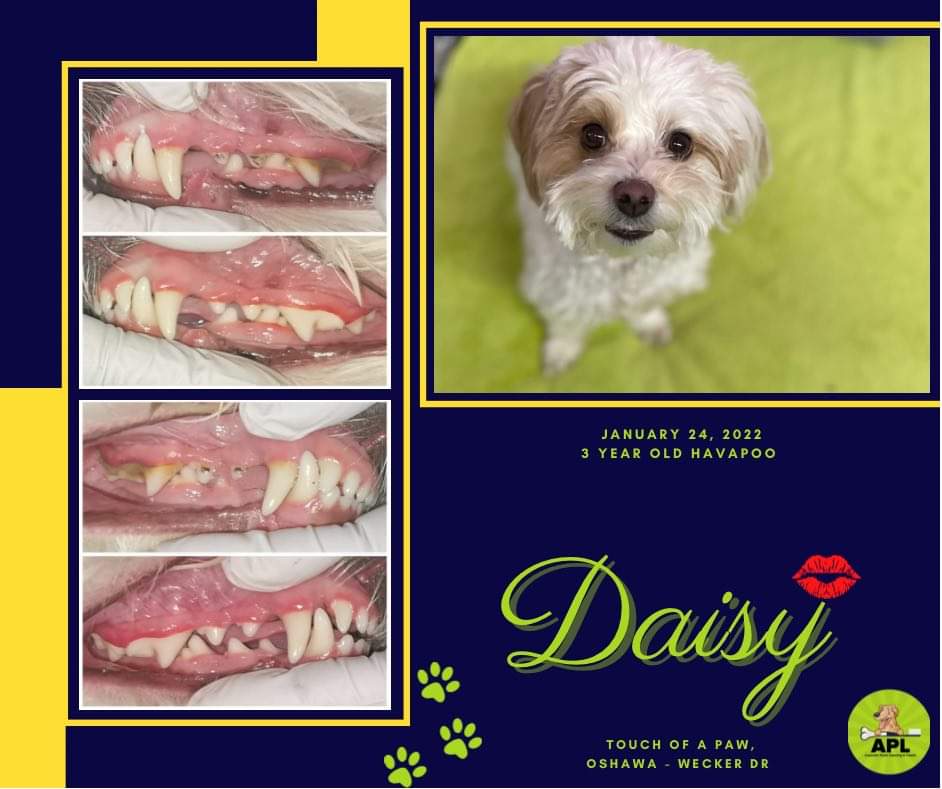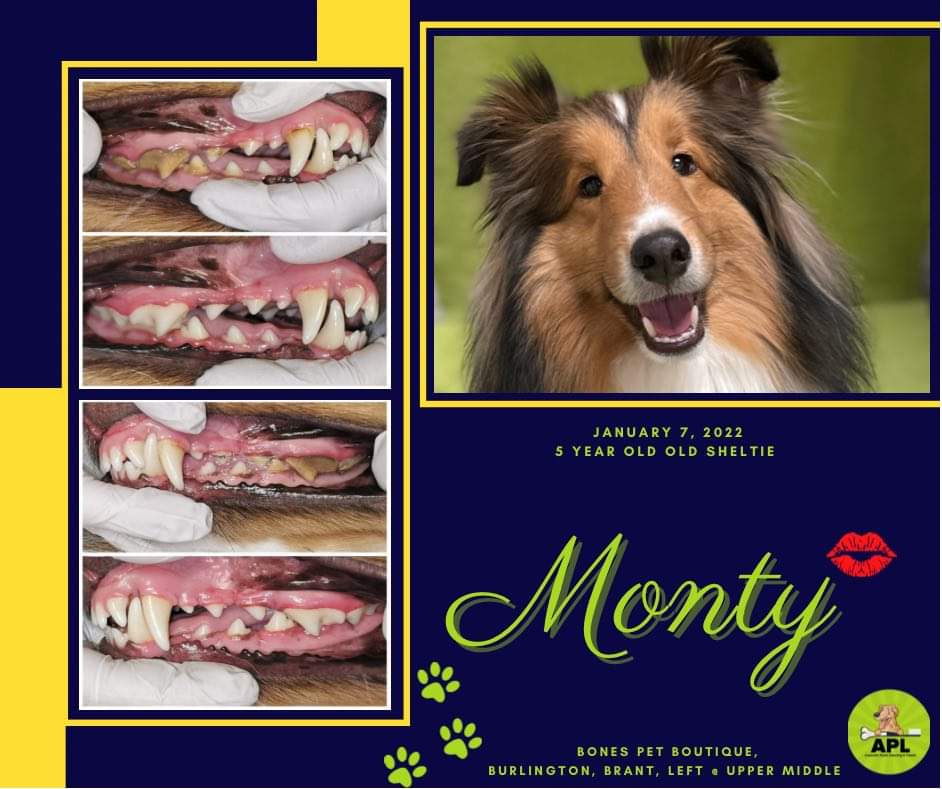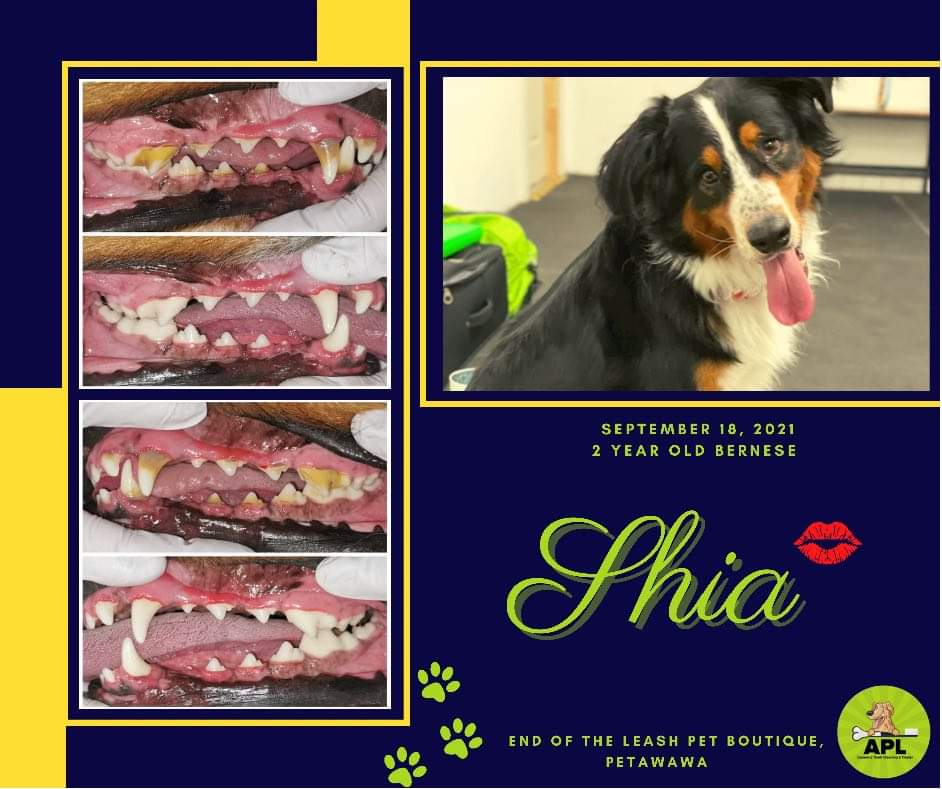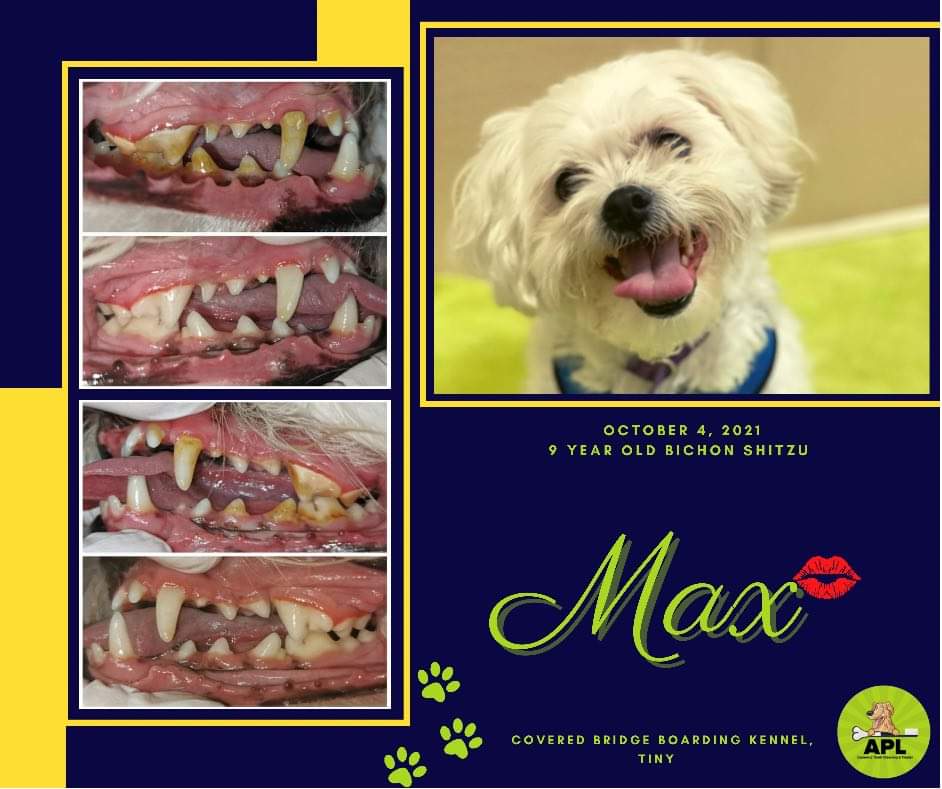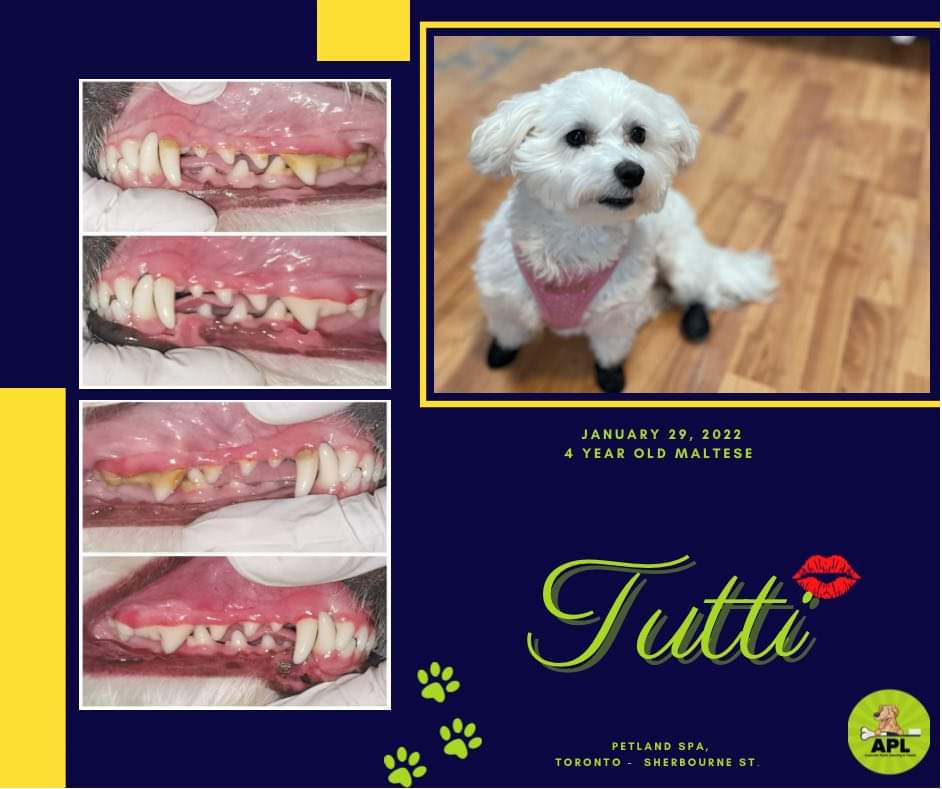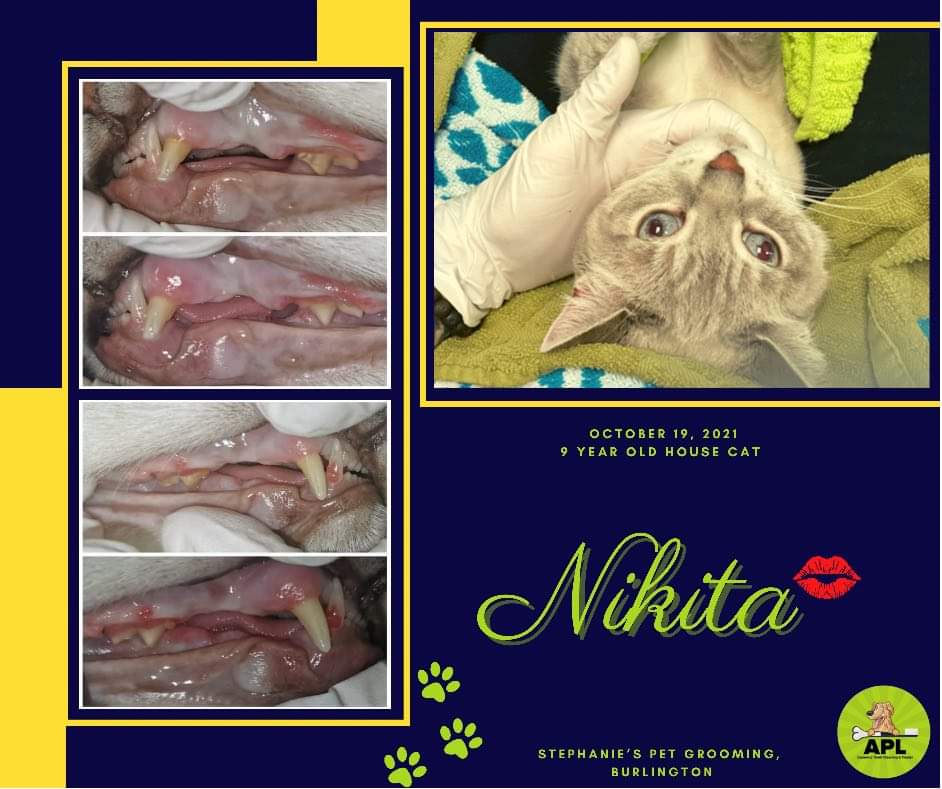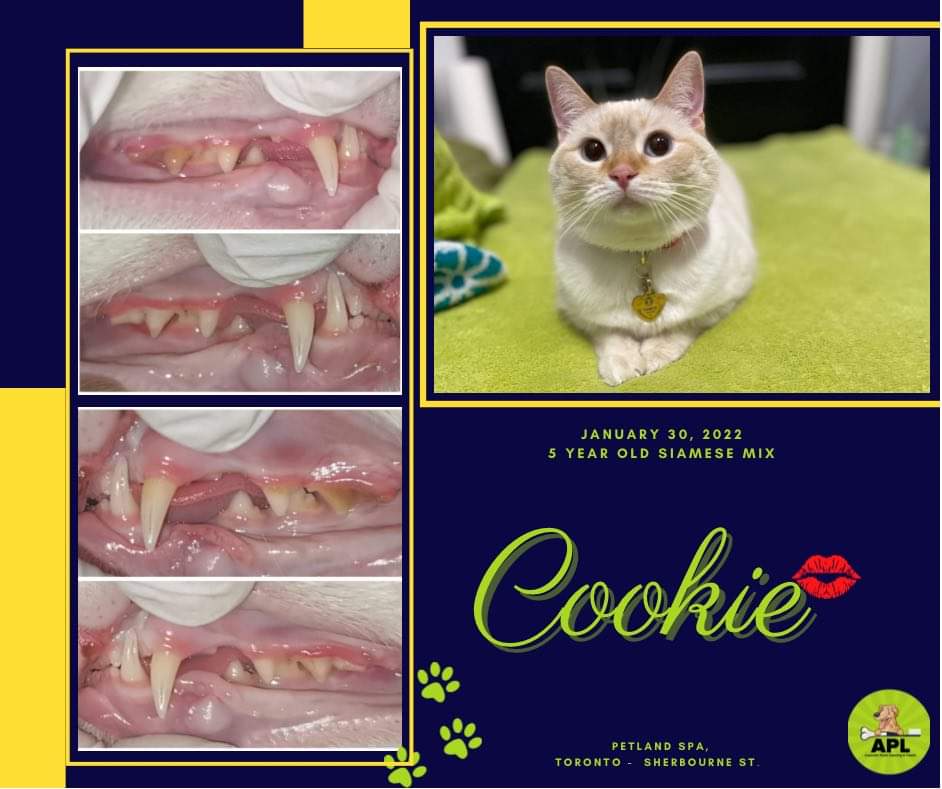 Let's Get Started!
If you want your pooch to have a clean, fresh smile, we want to help you by offering some wonderful options for your care plan. For more information or to set up an appointment, please contact us today. Your pooch will be so excited they just might give you extra smooches!
Dog Teeth Cleaning
Our dog teeth cleaning services will give your dog a winning smile.
Healthy Dog Treats
With our selection of healthy dog treats, you can reward your pooch without hurting their diet.
Dog Teeth Cleaning Cost
We keep our dog teeth cleaning costs affordable so dogs large and small can have stunning smiles.
Dog Teeth Cleaning
Our dog teeth cleaning services will give your dog a winning smile.
Healthy Dog Treats
With our selection of healthy dog treats, you can reward your pooch without hurting their diet.
Dog Teeth Cleaning Cost
We keep our dog teeth cleaning costs affordable so dogs large and small can have stunning smiles.
Still have
further questions?
Are you interested to learn even more about our cosmetic canine teeth cleaning services prior to reserving a spot for our next session? Please feel free to email us with any questions or comments that you may have; we can promise we don't bite. Contact us to learn about our next session and to reserve a spot. We guarantee that you and your dog will find our cosmetic canine teeth cleaning services to be a natural, enjoyable experience that you will be more than happy to refer to your friends.
*Note: We are not licensed to remove teeth or provide any medication, so if we believe either of these are necessary, we will inform you that you can obtain those services at your veterinarian's office. We will also let you know if we were unable to complete the cosmetic canine teeth cleaning for any reason. We will inform you if further advice or services may be required.